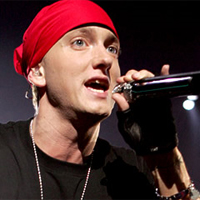 You probably get thousands letters everyday and you probably don't answer them but I think the fact you might read this it worth trying. Basically I speak French so excuse my writing, I'm not that good in English. Anyway. My name doesn't matter. If I decided to write you a letter it's because I want to try to make you understand what your music means to me, what your music did for me. I could explain you what I've been trough, but I'll just tell you that I relate to your songs, you and I have a lot of things in common.
When I was little, I use to love Without Me, but my parents taught me not to listen to your songs so I stopped listening to them. When things got bad in my family, I had no one to hold on to, I had nothing that was making me hoping of a better tomorrow. I was depressed, I made a lot of mistakes and then you came up with Recovery. Some people say 'this album isn't made by the real Slim Shady', some people say a lot of shit those days because trust me, that album changed my life. Your strength is making me stronger. The fact that you've been trough so much things and that you're brave enough to talk about it in an album, proves us, your fans, that you're still that unique and so talented person. You often talk about your daughters and you specially mention Hailie. You say the only thing you've ever wanted is to make her proud. Well, you probably don't care but if I had a dad like you, I'd be proud. I'd be proud to see how strong he is and I'm sure your daughters are proud of you. I got a lot of issues with my dad and when I listen to Mockingbird, it's like every word you're saying kills me a little bit more inside. When I listen to Not Afraid, it makes me believe in myself, it makes me want to stand up and fight. Lose yourself is my inspiration, in fact YOU are my inspiration. And when I listen to Stan, I think about the fact that you might answer or even read this letter. I'm sorry for everything you've been trough, if that even maters.
I can't say I'm your biggest fan, I missed your concert, I have absolutely no posters of you and you're not on the background of my phone because the only thing I want from you is your music (well maybe a little answer to that letter too). I respect you Marshall. You're actually one of the person I respect the most on this planet. I hope you realize what you do for people by doing the thing you're the best at: rap. What you say has a meaning, a story. Every song means something more than just lyrics. It teaches us life, troubles and how to make it trough. I'm so thankful Marshall Mathers, because if you
didn't save Stan's life, you saved mine.
Thank you for everything.
Sincerely,
A fan.