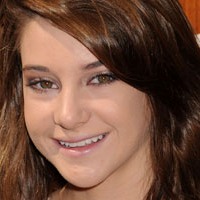 My name is Sadie Forsyth. I am fifteen years old and a sophomore at Enterprise High School. For an assignment in my word processing class, we are supposed to write a letter to a celebrity. How do you feel about computers? Do you use them daily for your job? Dumb question, I know. But we are required to ask it.
When I was reading one of my Seventeen magazines and read your interview, I about fell in love with you. I never would've even thought that you have scoliosis. When I was 13, the school nurse told me that I had scoliosis. When we went and saw the doctor he recommended that I got a brace. I wore that brace eighteen hours a day for two years. The curvature in my spine grew pretty rapidly. In December of 2009 I had a spinal fusion. Now my back is straight and no more brace! The only bad thing is that I can't bend my back at all because I have two rods and twelve screws and two hooks in my back.
I think it is amazing how you did not let scoliosis hold you back from anything. Is there anything you learned when you had your brace?
Thank you for your time in reading my letter. I would love to get a response from you.
Saide